June 2016, Lanús, Argentina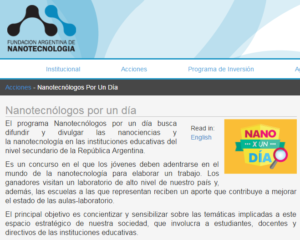 The Nanotecnólogos por un Día (Nanotechnologyst for a day) program seeks to early spread Nanotechnology science in technical high-schools of Argentine.
It is a competition where young students have to deep in nanotech to prepare a Paper. Winners visit a high level national laboratory and the schools they represents, receive a contribution to helping improve their classroom-laboratory.
The main objective is to raise awareness of the issues involvedin this strategic area of our society, involving students, teachers and administrators of educational institutions.
The competition is held every year, and researchers visit the educational institutions. Dra. Alicia Gallo (UNLu) is involved in this training.